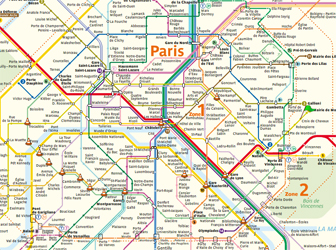 Getting around in Paris by public transportation (metro, RER, bus, streetcar):
See the RATP site (maps, rates): http://www.ratp.fr/ and particularly the interactive map: http://www.ratp.fr/plan-interactif/carteidf.php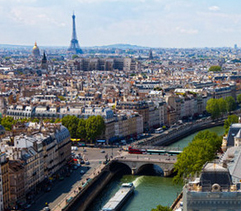 Outings in Paris:
See the Office du tourisme site: http://www.parisinfo.com/
Concerts: http://www.lylo.fr/
Here, a google map with some of the places listed below.
Quarters:
The heart of the Tamil community in Paris.
A la fin de la rue Faubourg St Denis, coté nord - 75010 Paris
http://www.minorsights.com/2014/12/france-tamil-town.html
Rue Sainte Anne - 75001 Paris
Street of Japanese, Korean and Vietnamese restaurants and supermarkets.
13th arrondissement – Petite Asie
The largest commercial and cultural center for the Asian community of Paris
Between avenue de Choisy, avenue d'Ivry et boulevard Masséna - 75013 Paris
Second asiatic neighborhood in Paris
Boulevard de Belleville - rue de Belleville - 75020 Paris
To see also:
Buddhist center in Paris, into parc de Vincennes
Route de Ceinture du Lac Daumesnil, 75012 Paris
http://www.kagyu-dzong.fr/
Art gallery about Asian and Chinese art
13, rue d'Ormesson, 75004 Paris
https://www.facebook.com/galerie.jb
Art gallery involved in discovering and promoting a new generation of Asian artists. Two more galleries in Brussels and in Beijing.
62, rue de Turbigo - 75003 Paris (Métro : Arts et métiers)
http://www.galerieparisbeijing.com/index.html
Paris Museums with Asian Collections: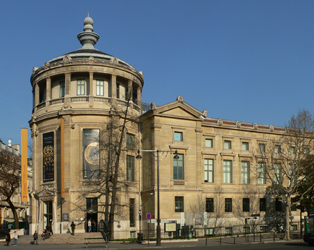 Bibliothèque nationale de France
* Site Richelieu : 5, rue Vivienne 75002
* Site François-Mitterrand : quai François-Mauriac 75013
http://www.bnf.fr/fr/acc/x.accueil.html
Museum dedicated to the French banker and art sponsor, it contains a big "world garden" with a Japanese part, including a traditional Japanese village and a contemporary Japanese garden.
10-14 Rue du Port, 92100 Boulogne-Billancourt, France
http://albert-kahn.hauts-de-seine.net/
7 avenue Vélasquez – 75008 Paris
http://www.cernuschi.paris.fr/
The Musée Cernuschi, opened in 1898, is one of the oldest museums in the City of Paris. It is also the second largest museum of Asian art in France and the fifth largest museum of Chinese art in Europe.
Musée National des Arts Asiatiques Guimet
6, place d'Iéna 75116 Paris
http://www.guimet.fr
First largest museum of Asian art in FranceI, home to large collections of Asian art in Paris.
59 avenue Foch – 75116 Paris
http://www.rmn.fr/francais/les-musees-et-leurs-expositions/musee-d-ennery/
The Musée d'Ennery is closed for renovation until further notice. The museum's collections, which were left to the State by the playwright Adolphe Philippe d'Ennery, include objects from the Far East, China, Japan and Vietnam: large animal statues, porcelains, inlaid wood panels, and a remarkable collections of netzukes, the traditional Japanese statuettes. In 2004, the Musée d'Ennery was merged with the French National Museum of Asian Art/Guimet.
129 rue de Grenelle 75 007 Paris
http://www.musee-armee.fr/accueil.html
75058 Paris – France
http://www.louvre.fr/
37, quai Branly 75007 Paris
http://www.quaibranly.fr/
The Paris museum dedicated to the art and civilisations of Africa, Asia, Oceania, and the Americas.
293, avenue Daumesnil Paris
http://www.museums-of-paris.com/musee_fr.php?code=274
Oceanian art collection. Tropical aquarium. The museum strives to highlight the value of these cultures by showing both the history—sometimes very ancient—of these arts and their contemporary vitality.
121 Rue de Lille 75007 Paris
http://www.fondationcustodia.fr/
The Paris Frits Lugt Collection gathers an exceptional body of drawings, engravings, rare books, paintings and artist correspondence.
Galeries du Panthéon Bouddhique
6, place d'Iéna 75116 Paris
http://www.guimet.fr/fr/pantheon-bhouddique/histoire-des-galeries-du-pantheon-bouddhique
The Emile Guimet collection housed at the Buddhist Pantheon befits its basic programme, that is, a museum of religions.
Petit Palais, Musée des Beaux-Arts de la Ville de Paris
Avenue Winston Churchill 75008 Paris
http://www.petitpalais.paris.fr/
The Petit Palais is an historical monument of Paris, today used as a fine arts museum, built for the World Fair of 1900 by the architect Charles Girault.